Simon Constantinou
Hair Product Awards would like to present the award winning UK Salon, Simon Constantinou.
Simon Constantinou is a multi-award winning hair & beauty salon with a relaxed atmosphere set in the buzzing area of Cathays, Cardiff. They not only have a super friendly creative team of hair stylists but also a fabulous beautician. And yes, you can use Google Maps above for a quick look around their salon!
The many awards achieved by this ever popular salon have created the foundations of their successful family business. Other prestigious titles awarded include "World champions", "British champions" and "Welsh Bridal champions" among many others.
This salon business has had over 30 years of constantly evolving and creating, to fulfill the client's hair care needs and this doesn't go unrecognized within the hair awards industry. The team of expert stylists and colour technicians have been trained to the highest standard. They told us how they never stop learning as whilst trends change constantly, they have to adapt.
The Simon Constantinou team pride themselves on customer service, attention to detail and levels of customer communication, they say listening to the client's needs is the most important thing. You really get a first class service here.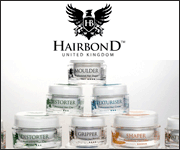 "During a consultation, the stylist will sit and discuss what the client wants to achieve from their hair, and then we advise on the best look to suit their hair type and lifestyle, helping them to achieve the 'salon look' in their home between salon visits."
Not only is this salon known for spectacular hair results, but the salon has also grown this last year with the arrival of their friendly and very talented full-time beautician, Monika. Meaning the Simon Constantinou business now offers a new array of new beauty services, including Microblading, Eyelash Extensions, Facials & Peels.
The Simon Constantinou Salon also work closely with the best brands in the business, they are a proud Goldwell salon, ensuring the quality of colour work matches that of the brand's reputation. They also work with quality brands including Olaplex, Hairbond, Great Lengths hair extensions, Joico, ghd and OPI to name a few.
"We only sell products that we believe in and are passionate about. Our stylists offer expert advice on which products are best to use for a client's hair-type and lifestyle. Each client is unique and therefore the approach and advice is tailored to the individual each time. We feel this bespoke service is core to our brand ethos."
The salon boasts a friendly and professional team with a real mix of incredibly talented stylists. With an exceptionally high staff-retention rate, they have created strong long term stylist-customer relations. They clearly know how important it is, as hair and beauty appointments are so personal, to build a high level of trust with their clients.
"Our salon manager, Melanie takes time to get to know each and every client, ensuring they feel like they are part of the salon family. We love nothing more than when a client shares their photos and experiences with us! Our junior staff are just as important in our salon-experience as our stylists. They are trained in-house at our Brothers Constantinou training academy and greet all clients with professionalism and a smile."
In this digital age, the Simon Constantinou team told us how their online presence is still growing, with many customer enquiries opening through Facebook and their own website online contact form.
"We feel it is important to respond as a human rather than and automated bot and we make every effort to respond immediately. We regularly keep our customers informed through social media. We enjoy sharing our work and behind the scenes pictures along with sharing hair and beauty trends and tips."
Go give them a follow or book in for an appointment today: